Allover prints – full-area printed umbrellas
Allover prints - full-area printed umbrellas
Whether you would like to have an promotional umbrella printed on the inside or use it as full-area printed one on the outside: Our team has already produced numerous custom-made products for many industries and knows what matters.
allover-design-mode
allover-design-mode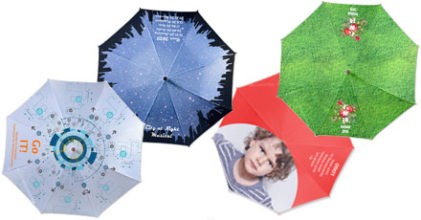 Full-area printed advertising umbrellas - procedure and what matters:
Printed advertising umbrellas - especially all-over printed umbrellas - attract the attention of many people. Many companies, but also designers and fashion labels use this advertising space to draw attention to themselves. On request you will receive umbrellas with all-over photo print, print over two panels each or each individual panels with photo or art print. Important for you: all-round service from design to result.
Usually our customers proceed like this:
Select the basic model as a basis from our range of products
Refer adjustments to your personal contact person (colour, handle, material, umbrella cover, etc.)
Send the desired advertising attachment / design
Note: In order to be able to produce economically, a minimum quantity of 1,000 umbrellas should be achieved in most cases. On request, we can also store some of the umbrellas and deliver them on demand.
allover-designs_001